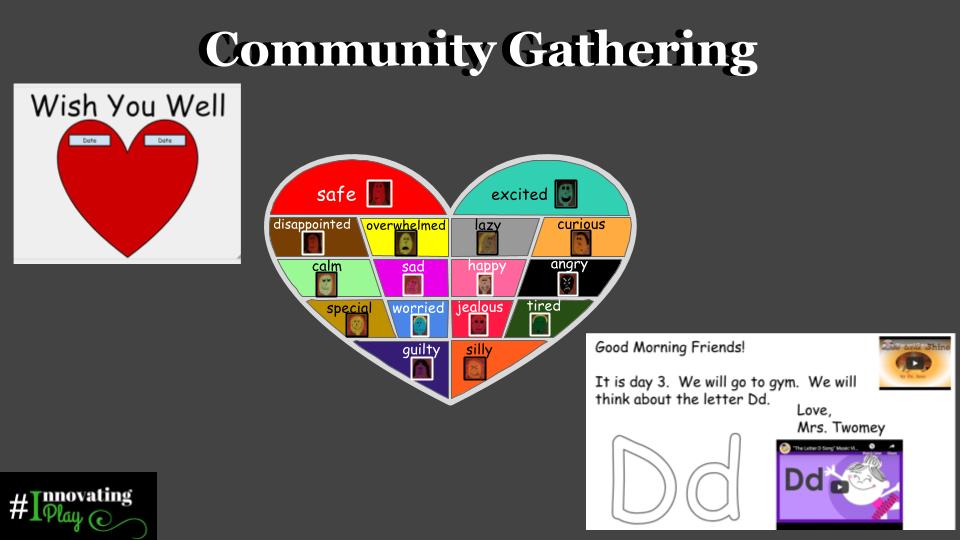 ---
Right after our Connected Play time, children take part in the Community Gathering. This time is dedicated to connect as a group and make sure individual needs are SEEN and recognized by the community. For the children, there is a flow between "the world I see" and "the world beyond me." The kids are given the chance to develop empathy by checking in with themselves, those around them, and those in a different space.
Prior to creating our Community Gathering piece in our schedule, we asked ourselves these guiding questions:
How can we tell what is happening in the classroom?
How do we know what's happening with each other?
How are we making connections to our learning?
How do we know what is happening with others outside our classroom?
Wish You Well
I (Christine) kick off the Community Gathering by saying good morning to each student.  There is such purity in the moment to look each child in the eyes and say good morning to them. (The kids will motion with "air hugs" or "air high fives" when they say good morning back to me, and I will reciprocate the gesture.) A teacher bonus with greeting each student means that I have just taken attendance. 😉 We remember who was absent after I have greeted everyone, and place the student(s) names inside the Wish You Well heart (this is a ritual from Conscious Discipline.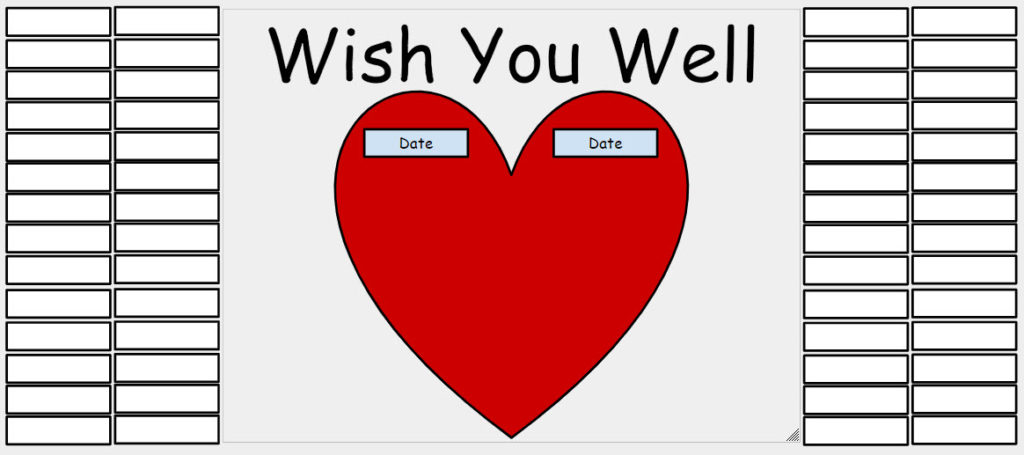 You'll notice that there are two sets of text boxes on the outside of the heart. This is so that Jessica and I can both have our kids names on the Wish You Well board. Wish You Well time is one of the ways we get to check in, for the kids to think about what is outside of their world as their peer(s) in California and New Jersey may not be in school. Even if we do not know the reason that they are absent, we sing the Wish You Well song to wish them well.
"We wish you well.
We wish you well.
All through the day today, we wish you well!"
Feelings Check In
Throughout the day children experience a variety of emotions.  As part of our community gathering, among the first things we do is take time to recognize our own feelings and the feelings of others around us.  This begins as we invite the children to SHOW how they are feeling using only facial expressions and body language.  Children take a moment to check in with the teacher, and then check in with each other to share their feelings.  We then ask the children to share how a friend is feeling today? With this, we ask for specific clues that helped them to identify the feeling (they smiled and the corners of their mouth turned up, their cheeks lifted, and their eyes got a little squinty).  After sharing what we notice about others, we turn to our Feelings Heart.
A child is invited to select a feeling to either address a personal emotion, or something he/she has notice that a classmate needs. The heart represents feelings in pictures and words.  Each piece of the heart is linked to a selection of videos from GoNoodle meant to address that feeling.  We use train visuals to support understanding of the feeling and how it may impact our learning.
The goal is to support  children in recognizing the ways in which addressing our feelings helps to keep our trains right on the track as learners.  Certain feelings make us feel slow and make learning hard.  In that case, we select a video that might help us to find energy as learners.  Some feelings make us go off the tracks and in that case it is hard to enjoy and be productive in our learning.  In this case, we might choose a more calming video to address the feeling.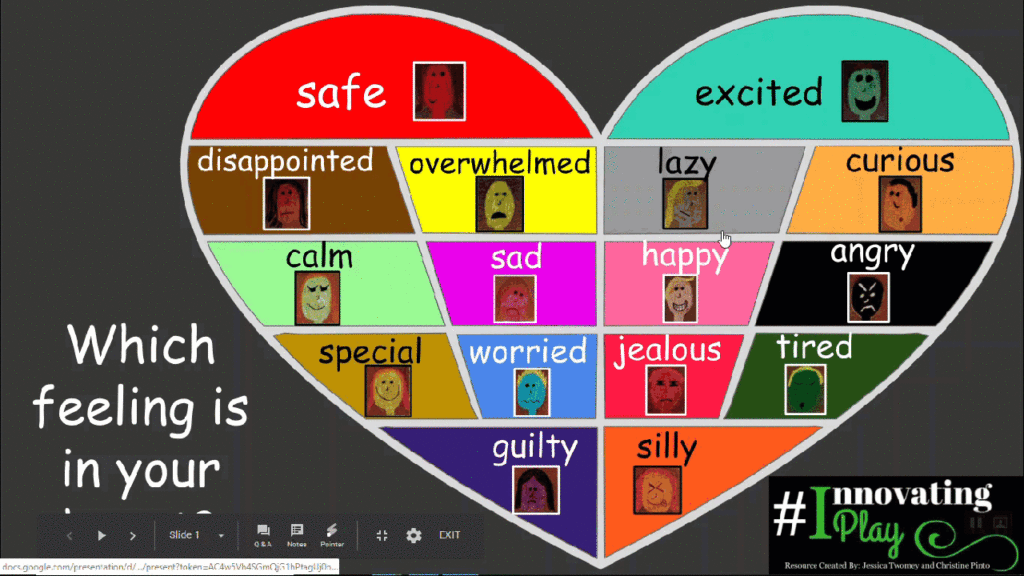 After selecting the feeling and participating in the complementary experience to address the feeling, children return to the Feelings Heart for the last step in the process.  This is the point at which we take a moment to recognize that we can value EVERY feeling. We allow children to see that human beings have the power to feel and embrace what we feel.  We help them to know that recognizing feelings supports us as learners and as members of our classroom community. To bring closure to the experience we click on the gratitude slide and take a moment to recognize the ways in which we are lucky to be learning and playing in our classroom today.
Morning Message

The morning message is meant to be a safe, predictable experience for emergent readers.  This does not limit our potential to make it engaging and connected! In keeping with the feel of the Community Gathering, this is a time in which children learn to SEE and FEEL what it is to become a reader.  We let them into the process of reading so that they see where they are, and learn how to respect and support other learners in their individual processes. During this time we invite children to be teachers for each other.  
Through the Morning Message, children:
Experience echo reading – teacher read/students repeat
Identify and show what is happening in their reader brains – by pointing or marking elements within the message (bolding, highlighting, changing font color to those elements)
Model reading behaviors – by acting as a reader and reading the message to the class, or a leader and pointing to the words as we read together.  
Morning Message provides possibilities for mini-lessons given what the students are noticing about print and the process of reading.  It is also a time to interact with text utilizing a variety of multimedia formats including video, audio, imagery, and digital manipulation of text.
Jessica's Morning Message Ideas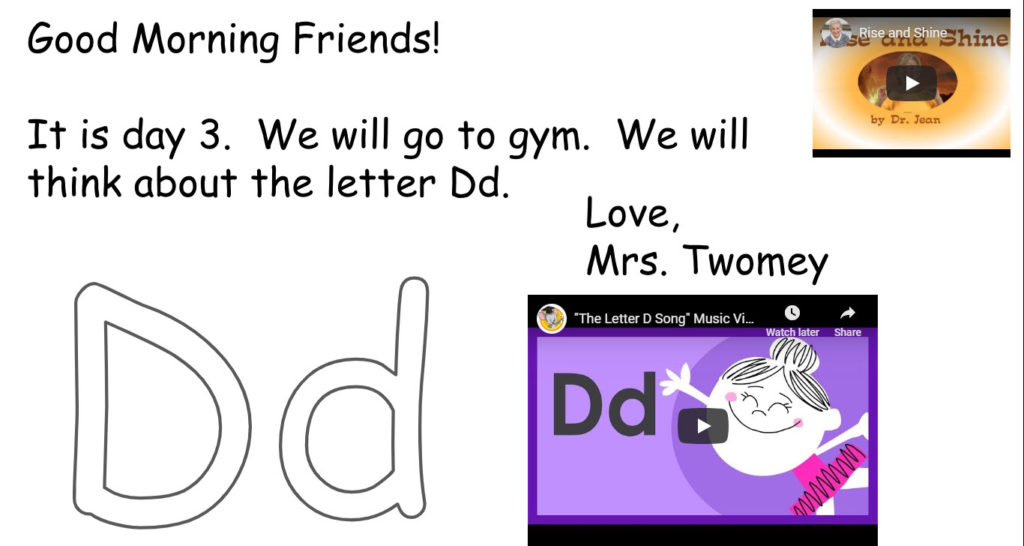 Morning Message in Google Slides give children a space to interact with text within a multimedia format.  When introducing a new focus letter we can easily use word art to manipulate the font and sizing of the letter to offer a gross motor writing experience on a vertical surface.  Projecting the message and allowing for manipulation through letter tracing offers the opportunity to support formation along with shoulder and elbow stability, crossing the mid-line, visual attention, and hand-eye coordination.  Within this same space we can add videos to expand learning through sounds and images. We have the opportunity to use this safe and predictable routine for emergent readers to stimulate multiple senses and develop deeper connections to new information.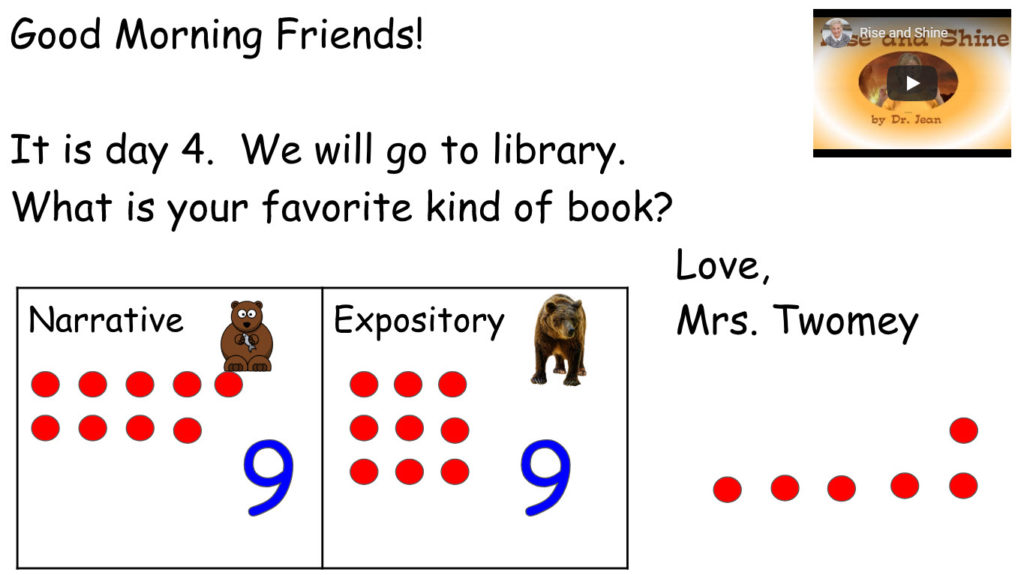 Morning Message is a space to make connections to the daily experiences that will unfold.  Activating prior knowledge through interactive activities within the slide helps to develop rich vocabulary and make connections between content areas.  In this slide we were able to make connections to ELA vocabulary, how they fit with the experience of visiting the library, and share opinions which allowed us to analyze and interpret data.  Using a simple table and duplicated dots, children were able to show their opinion visually as we participated in the experience as a whole.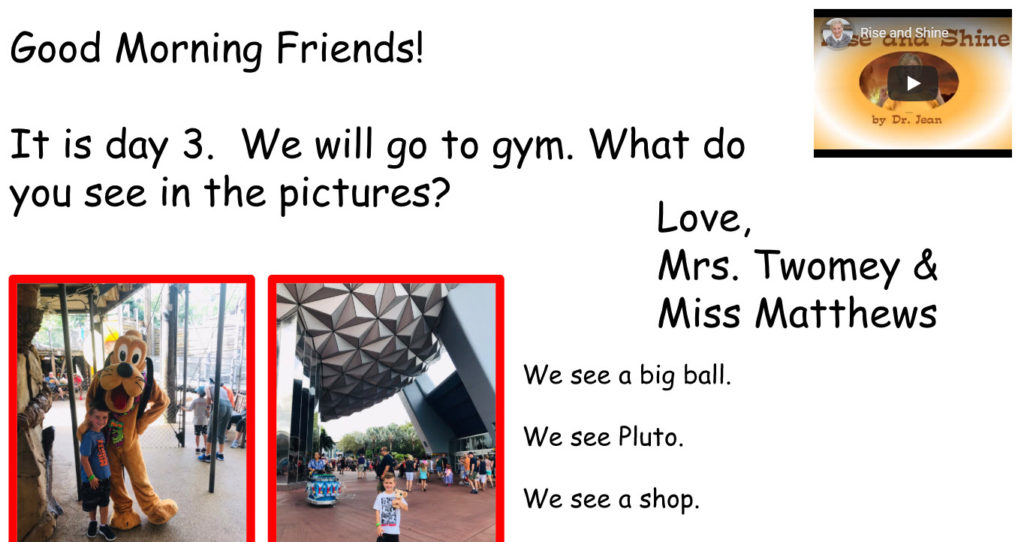 Personalizing morning message can add a rich level of sharing for special experiences that happen outside the classroom to connect academics.  This slide was a surprise for one of the children in our class! His family had sent me pictures from their vacation to Disney World (via Seesaw), and I was able to download the images and add them to the slide.  I had preset sentence starters, "We see_____." which children helped to complete by sharing their ideas. We used this as an opportunity to make observations, focus on complete sentences, practice sight words, and deepen connect with our friend.  This message was downloaded as a jpeg and placed into the child's Seesaw learning portfolio to share with families, bringing the experience full circle.