We are THRILLED to share THAT WE ARE WRITING A BOOK, and are SO honored and grateful that Dave Burgess Consulting, Inc. is representing us with this opportunity. We are excited and proud to celebrate the learning experiences our students engage in, and deeply reflect and articulate our teaching practices in the process.
As we move forward with this opportunity, we are shifting gears as to how we facilitate discussions with the Innovating Play Community. We want to include YOU in our book writing process!
What You Need to Know to Play:
We are writing discussion questions and posting them to Twitter AS WE WRITE THE BOOK! [Hint hint, wink wink, there's a really good chance that book goodies will be posted along the way 😉 ].
Follow the #InnovatingPlay hashtag and be on the lookout for Book Question images.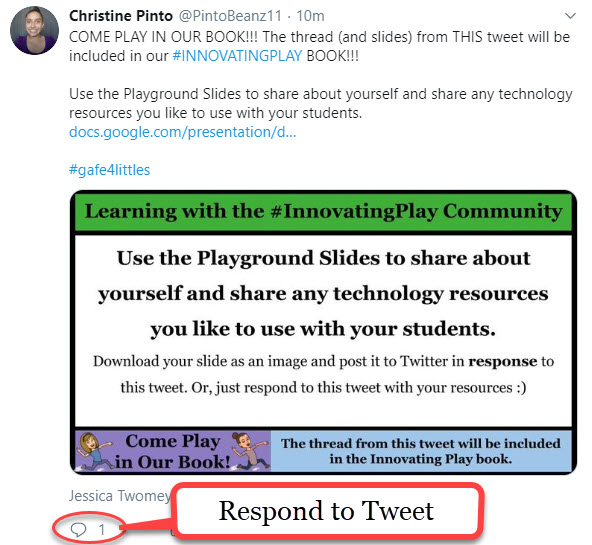 We are including Learning from the #InnovatingPlay Community sections in our book and will be having short links to the TWEET THREAD! This means that any responses to the book question Tweets will be seen when readers tune into the discussion! YOUR contribution has a role in inspiring teachers and empowering them to learn of new ideas to try and reflect on their teaching process.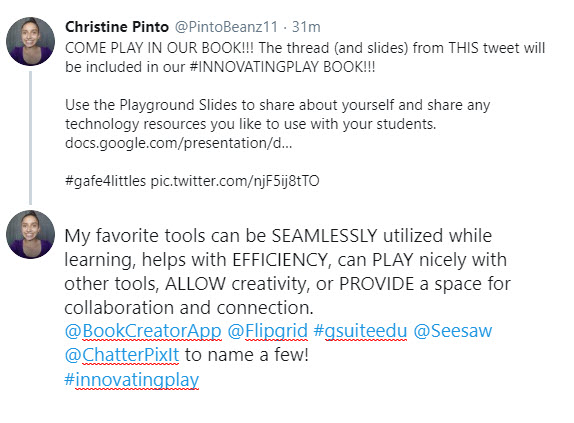 Tip: Be sure to RESPOND to the book question Tweet FIRST. Then, if you would like for your response to be seen beyond our mutual followers, Quote Tweet your response to the Book Question Tweet SECOND. Why? If you Quote Tweet the Book Question Tweet and respond that way, it will NOT be in the thread.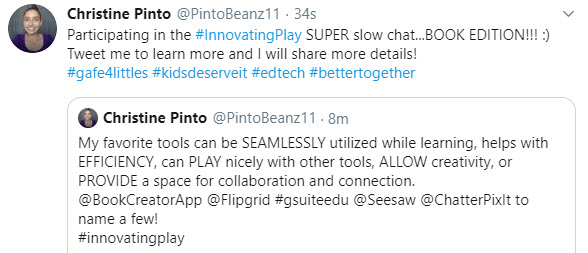 You can check the #InnovatingPlay hashtag for the latest about our process with the book, and questions being shared out. If you're curious about what questions have been posted, you can view the slides below and check out the Notes section for the link to the Tweet threads.
We would LOVE it if you invite others to the conversation! We thank you in advance for your contributions, and appreciate your support in our book writing journey!