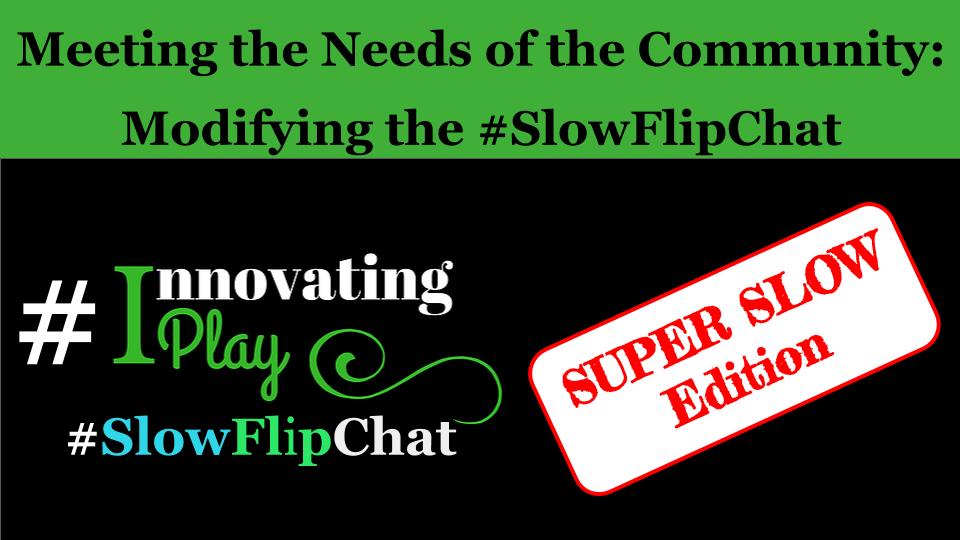 ---
As moderators of this uniquely styled chat with educators who bring depth to their responses, we are constantly on the lookout for bridging connections and listening to the needs within our community. Some of our main goals are to create a sharing space that stays safe and consistent so that we are available for each other, and to keep flexibility so our community can participate when we can. With these goals in mind, we have made some modifications to the chat format.
Schedule Details
Chat discussion topics

for the #InnovatingPlay (SUPER) #SlowFlipChat will be the duration of a month. A new grid will be posted on the first Sunday of each month

ONE question will be posted in the grid on Sunday of each week

Questions will be open for the week, and will be made frozen when the next question is posted.

Questions will be posted on Twitter to serve as a reminder, and for those who would like to expand the conversations on that platform

You can still expect and intro question and a reflecting question, they will be included with the first question and last question respectively.
The month long format gives us a chance to slow down even more so that we can listen carefully to each other, take in ideas, and apply new strategies during the course of the week.  It gives us a focused point of connection that can flow between sharing examples and resources on Flipgrid and Twitter, and opportunities to extend conversations before shifting to a new question.  This is our opportunity to not only discuss, but to start to put more action behind our conversations by allowing time to process and experiment as we develop and refine the art of teaching and learning.
EVERYONE Can Play
We value ALL roles in education and are inviting YOU to share your voice! Be on the lookout for the next grid that will open Sunday, September 2nd!